Tired of holding the fishing rod ALL day?
Maybe need a 5 minute break from holding the rod? Or hate losing fish because you failed to set the hook properly in time?
Well this is the solution you've been waiting for! Let this amazing tool do the work for you.
Perfect for shore fishers with many rods out at the same time, or just lazy boat fishing lovers, the spring-loaded rod holder will actually pull back whenever a fish is detected on the line. Using an innovative way of stringing the line through a hook on the device, it becomes a super sensitive way of detecting when a fish is on the line and will immediately pull back on the rod to set the line.
FEATURES:
Adjustable to 3 levels of sensitivity for various water conditions and size of fish. From super sensitive for clear water to least sensitive for choppy water. As well as large, medium and small fish size.
Line trigger activates tip-up only when fish hits the hook – no misfires.
Fishing rod holder with double spring-loaded tip-up action sets your hook automatically. Now you don't need any bells or alarms. This tool does the job for you.
HIGH IMPACT RESISTANCE & PRISM CONSTRUCTION
It's also great when you take children or beginners out fishing and have to help them out.
HOW DOES IT WORK?
Step 1: Cast out your line
Step 2: Place your rod in the holder
Step 3: Wrap the slack line around the trigger and it's set
Step 4: Time to wait for the fish to bit!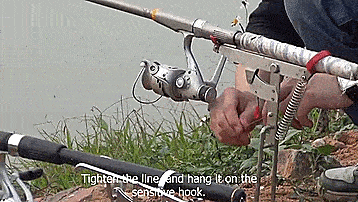 HIGH IMPACT RESISTANCE & PRISM CONSTRUCTION
Prism construction makes for a sturdy rod holder and allows fork to easily plug into soil. Two sharp ends go into the ground to hold unit still. Sturdy Stainless Steel and impact resistant. Anti-rust & Anti-corrosion. Plated steel material for excellent durability and strength.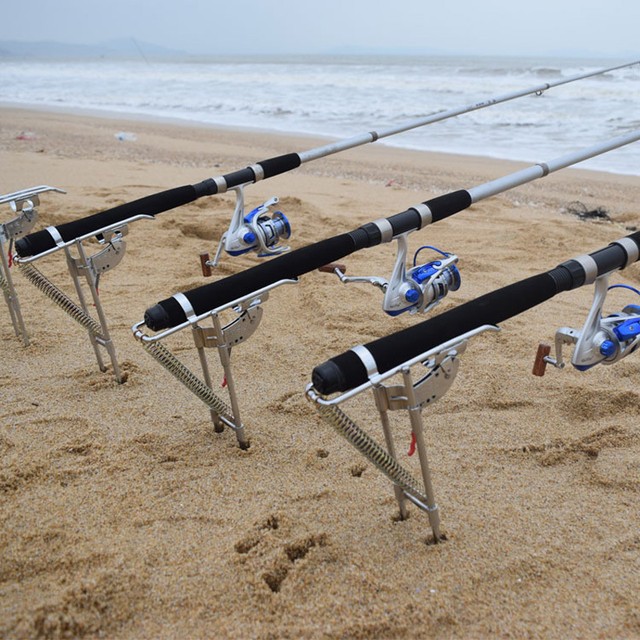 CUSTOMER REVIEWS
I took these out this afternoon to test them out. They performed well, were exactly What I imagined, and was super easy to adjust them as I needed too (both the angle and the direction). HIGHLY RECOMMEND! I was going to purchase a rigging for ground fishing that would have cost me around $150 but then I found these. I feel they are comparable and so much more affordable!
These things are awesome!! I have used it for catfishing, bass, and striper and have not missed one fish. If you leave unattended it will keep setting the hook for you if fish is on the line. Every time fish runs and lowers rod it pops right back up to make sure you have drag set correctly.
All my open face spinning rods and reels fit except my mega catfish open-face rod. Just love these I can walk the banks and leave these unattended and when I get back fish are still on and pole has not been pulled in by fish form putting it on sticks. That happened to me all the time before I got these. Great for overnight fishing as well!!!
Love these. Their reaction time is a lot better than mine these days. Seem really durable. Springs are solid. I'll be buying a couple more.
Hello fellow fishing enthusiasts. If you have been out fishing and dozed off a time or two, you may have set a line and missed a fish or lost an entire rod and reel while doing so! Now I have been searching around for something like this to solve such a problem and believe me this and a bell does the trick!
The springs are very strong and powerful.
These things are awsome! If you love to fish with 3 sets pf rods and always worried about losing a rod? Well with these you dont. Yeah its kinda lazy but you catch fish with more hooks in the water right? Definitely good for kids
Awesome product worked great now the rest of my family wants one too.
Product came very fast. Haven't had the time to use it yet, but really looking forward to it. The product is very well designed and constructed.