All orders placed in the US will ship from our US warehouse with 4-6 business day shipping.
Measure food quickly and accurately with our Digital Measuring Cup. The measuring cup comes with an attached scale that can measure in grams, milliliters, cups, ounces, and pounds. It takes all the guessing out of food prep and cooking.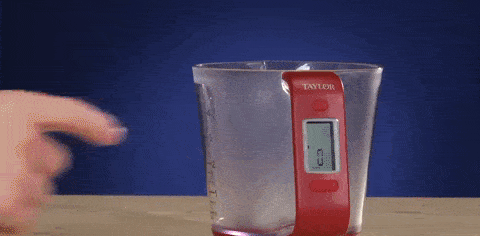 o you need a measuring cup in your kitchen? This one should be your first choice!
It has preset measurement modes: flour/milk/oil/water that will help you measure everything withgreat accuracy.
It's detachable which makes it dishwasher-safe measuring cup for easy cleaning after cookin.
Just throw it to your dishwasher and enjoy your meal! There is a clear LCD for effortless readout in both metric and imperial units.
FEATURES:
Plastic measuring cup
Attached scale can measure grams, cups, milliliters, cups, pounds, and ounces (press mode button to switch between them)
Easy-to-read LCD screen
Cup can be removed from scale for easy washing
Lightweight design
Auto power off after 60 seconds of idle time